Karl Dallas - Melody Maker, 15 September 1973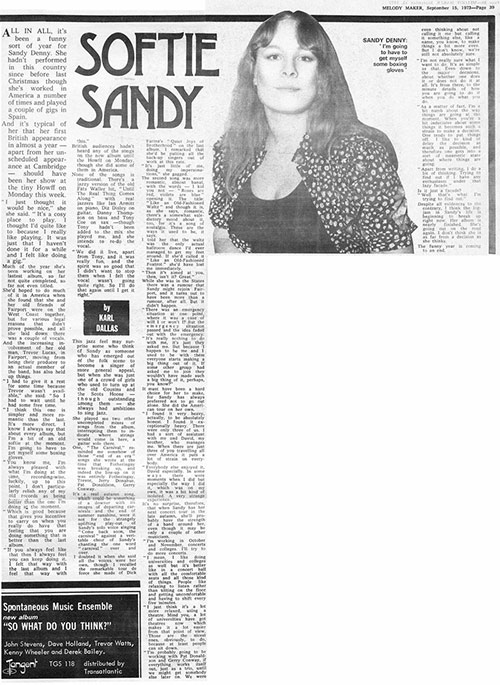 15th September 1973
ALL IN ALL, it's been a funny sort of year for Sandy Denny. She hadn't performed in this country before last Christmas though she's worked in America a number of times and played a couple of gigs in Spain.
And it's typical of her that her first British appearance in almost a year – apart from her unscheduled appearance at Cambridge – should have been her show at the tiny Howff on Monday this week. "I just thought it would be nice." she said. "It's a cosy place to play. I thought I'd quite like to because I really like playing. It was just that I haven't done it for a while and I felt like doing a gig." Much of the year she's been working on her latest album, so far not quite completed, so far not even titled.
She'd hoped to do much of it in America when she found that she and her old friends of Fairport were on the West Coast together, but the increasing involvement of her old man, Trevor Lucas, in Fairport, moving from being their producer to an actual member of the band, has also held up things. "I had to give it a rest for some time because Trevor wasn't available." she said, "So I had to wait until he had some free time."
"I think this one is simpler and more romantic than the last. It's more direct, I know I always say that about every album, but I'm a bit of an old softie at the moment. I'm going to have to get myself some boxing gloves."
"You know me, I'm always pleased with what I'm doing at the time, recording-wise, luckily, up to this point. I don't particularly relish any of my old records as being better than the one I'm doing at the moment."
"Which is good because that gives you an incentive to carry on when you really do have that feeling that you are doing something that is better than the last album."
"If you always feel like that then I always feel you can keep doing it. I felt that way with the last album and I feel that way with this'".
British audiences hadn't heard any of the songs on the new album until the Howff on Monday, though she did some of them in America.
None of the songs is traditional. There's a jazzy version of the old Fats Waller hit, 'Until The Real Thing Comes Along' with real jazzers like Ian Armitt on piano, Diz Disley on guitar, Danny Thompson on bass and Tony Coe on sax – though Tony hadn't been added to the mix she played me, and she intends to re-do the vocal.
"We did it live, apart from Tony, and it was really fun, and the spirit was so good that I didn't want to stop them when I felt the vocal wasn't going quite right. So I'll do that again until I get it right."
This jazzy feel may surprise some who think of Sandy as someone who has emerged out of the folk scene to become a singer of more general appeal, but when she was just one of a crowd of girls who used to turn up at the old Cousins and the Scots Hoose – though outstanding among them – she always had ambitions so sing jazz.
She played me two other uncompleted mixes of songs from the album, interrupting them to indicate where strings would come in here, a guitar solo there. One, 'Carnival', reminded me somehow of those "end of an era" songs she wrote at the time that Fotheringay was breaking up, and indeed the line-up on it was entirely Fotheringay, Trevor, Jerry Donahue, Pat Donaldson, Gerry Conway.
It's a real autumn song, which could be something of a downer with its images of departing carnivals and the end of summer sunshine, were it not for the strangely uplifting play-out of Sandy's solo voice singing "Come back soon, the carnival" against a veritable choir of Sandy's chanting the one word "carnival" over and over.
I doubted it when she said all the voices were her own, though I recalled the remarkable tour de force she made of Dick Farina's 'Quiet Joys Of Brotherhood' on the last album. I remarked that she'd be putting all the back-up singers out of work at this rate. "It's just little ol' me, doing my impersonations." she gagged.
The second song was more romantic, almost banal, with the words – I kid you not – "Roses are red, violets are blue" opening it. The title: 'Like An Old Fashioned Waltz' and though it is, as she says, romantic, there's a somewhat valedictory mood about it, too, for it's a song of nostalgia. These are the ways it used to be, it says.
I told her that the waltz was the only actual ballroom dance I'd ever managed to get my feet around. If she'd called it Like an Old Fashioned Foxtrot she'd have lost me immediately.
"Then it's aimed at you, then, isn't it? Great".
While she was in the States there was a rumour that Sandy might rejoin Fairport, and it turns out to have been more than a rumour, after all. But it didn't happen.
"There was an emergency situation at one point, where it was a case of will I or won't I? But the emergency situation passed and the idea faded out with the emergency."
"It's really nothing to do with me, it's just they asked me. But because I happen to be me and I used to be with them everyone starts making a big thing out of it. If some other group had asked me to join they wouldn't have made such a big thing out of it, perhaps, you know?"
It must have been a hard choice for her to make, for Sandy has always preferred not to go out alone. She did the American tour on her own.
"I found it very heavy, actually, to be absolutely honest, I found it exceptionally heavy. There were only three of us. I had a sort of assistant with me and David, my brother, who manages me. When there are just three of you travelling all over America it puts a lot of strain on everybody."
"Everybody else enjoyed it, David especially, in some ways there were moments when I did but especially the way I did it, which was on my own, it was a bit kind of isolated. A very strange experience."
It's no surprise, therefore, that when Sandy has her next concert tour in the late autumn, she'll probably have the strength of a band around her, even though it may be only a couple of other musicians.
"I'm working in October and November, concerts and colleges. I'll try to do more concerts."
"I mean, I like doing universities and colleges as well but it's better like in a concert hall with all the comfortable seats and all those kind of things.
People like relaxing to listen rather than sitting on the floor and getting uncomfortable and having to shift every five minutes."
"I just think it's a lot more relaxed, using a theatre. Mind you, a lot of universities have got theatres now which makes it a lot easier from that point of view. Those are the nicest ones, obviously, to do, because at least people can sit down."
"I'm probably going to be working with Pat Donaldson and Gerry Conway, if everything works itself out, just as a trio, until we might get somebody else later on. We were even thinking about not calling it me but calling it something else, like a name, you know, to make things a bit more even. But I don't know, we're still not absolutely sure."
"I'm not really sure what I want to do. It's a simple as that. Even down to the major decisions about whether one does it or does not do it at all. It's from there, to the minute details of how you are going to do it when you do what you do."
"As a matter of fact, I'm a bit numb about the way things are going at the moment. When you're a bit indecisive about some things it becomes such a strain to make decisions. One tends to put things off. I like to kind of delay the decision as much as possible, and therefore one gets into a sort of mesmeric state about were things are going."
"Apart from writing, I do a lot of thinking. Trying to find out if I have any enthusiasm under that lazy facade."
Is it just a facade?
"Well that's what I'm trying to find out."
Despite all evidences to the contrary, I think the log-jam in Sandy's life is beginning to break up right now. Her album is nearly finished. She's going out on the road again. I don't think she is as far from a decision as she thinks.
The funny year is coming to an end.