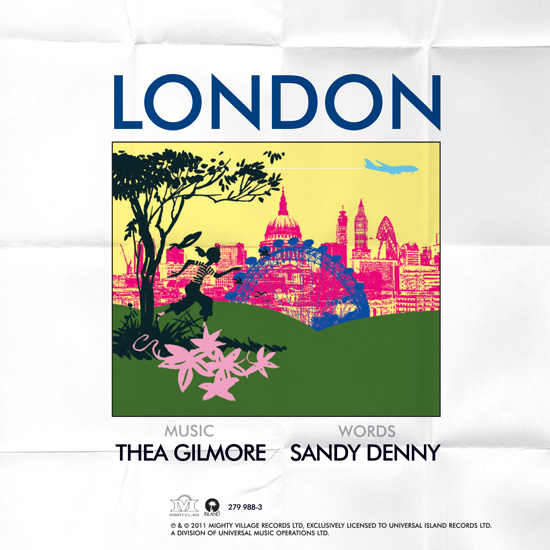 4th April 2012
Sandy has been playlisted at Radio 2 for the very first time in her solo career, over 30 years after her death. Thea Gilmore's version of 'London' will be on every Radio 2 show this week! The track will also be released on exclusive 7" vinyl on Saturday 21 April 2012 in support of Record Store Day. The 21 April 2012 will be the 34th anniversary of Sandy's premature death.
The track 'London' along with nine other songs were 'co-written' with British singer songwriter Thea Gilmore even though she was born in 1979, one year after Sandy's death. The unique collaboration evolved after the unexpected discovery of Sandy Denny's diaries in the attic of the Denny-Lucas home.
This priceless collection of song lyrics had lain dormant and untouched for years after Denny's passing. Gilmore, was identified by the Denny family as a talented musician who could write music to accompany Denny's newly discovered lyrics; the concept for the Don't Stop Singing album was born.
Jeff Smith, Radio 2's Head of Music said: "In a year synonymous with the capital it is great to hear one of Radio 2's favourites Thea Gilmore interpreting the great Sandy Denny's words into this fine new track. We're delighted to have added it to our new release playlist".
Elizabeth Hurtt-Lucas for Sandy Denny's Estate: "It's magic to hear Sandy's words come to life in Thea's album with these beautiful and evocative melodies. The success of this track is particularly fitting to Sandy's legacy and the coincidence of its release on the 34th anniversary of her death makes it just that bit more special".
Island Records President Ted Cockle added: "Sandy Denny is one of the great Island Records artists, and this has been her home since signing to the label as a solo artist in 1971. For Sandy to be acknowledged in this way by Radio 2 in 2012 is wonderful".
'London' b/w 'Goodnight' is released as a seven-inch single on Saturday 21st April available at participating independent record shops.